Consultations
Routine consultations are held across our three branches 7 days a week. Monday to Friday at all branches, then Saturday mornings in Reigate and Tadworth, Saturday afternoon in Tadworth and Sunday mornings in Reigate.
Our branches are located in Reigate, Redhill and Tadworth. Appointments are 15 minutes long to ensure we have enough time to deal with what you need.
To book an appointment please telephone and speak to one of our receptionists, who will be more than happy to help.
Our appointments are 15 minutes long to ensure that we have enough time to deal with your pet's needs.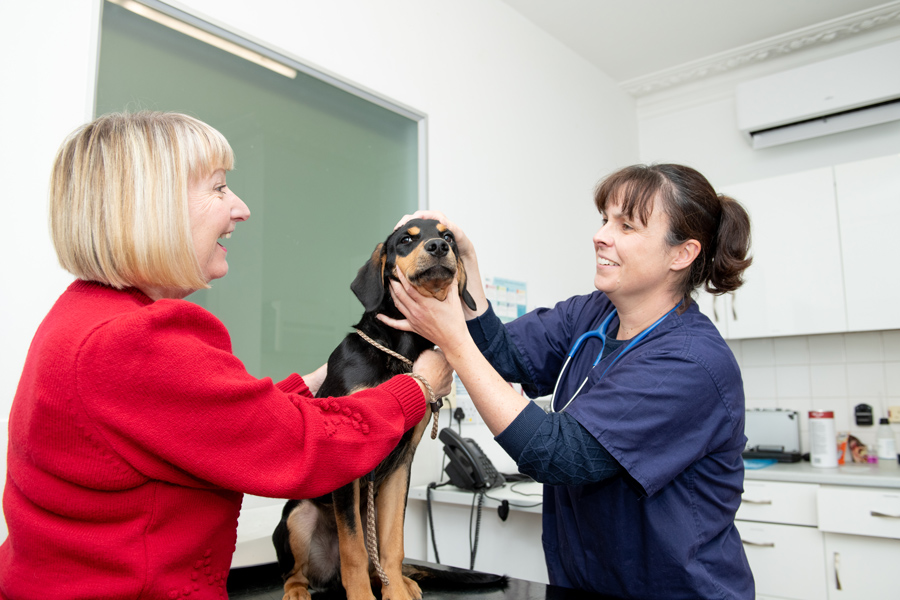 If you're new to Priory Vets we would like to get to know you and your pet.
We offer a FREE 15 minute appointment for any pet joining us, to have a health check and the chance to ask us any questions you might have. We can gather any relevant medical history and then we are all set to help next time you need us.
  24HR Emergency Care
When your pet has an accident or gets suddenly ill, it's good to have immediate peace of mind that you know help is always at hand.
Priory Vets own vets and nurses are available 24/7 all year round to provide advice and treatment in emergency situations to our clients.
At a time when many practices are transferring this part of their care to other clinics sometimes some distance away, we feel this is a very important part of our overall care. You will be seen by our own staff in premises close by, that you will probably be familiar with. Our Reigate clinic is the main base for seeing pets outside of normal hours. Please call us before coming on 01737242190.
Fees: In order to provide 24/7 care for your pet, consultations outside of normal hours do carry an extra charge.
  Surgery & Diagnostics
Our small animal vet team have wide ranging experience and specialist interests.
Orthopaedics, cardiology, anaesthesia, soft tissue surgery, Internal medicine, behaviour, laser therapy and acupuncture, and animal welfare are just some of our current areas of expertise! We are fully equipped to carry out surgical and diagnostic procedures, including Laparoscopy (keyhole surgery) particularly useful for neutering female dogs, Digital radiography, dental radiography, a range of endoscopes, portable ultrasound scanner, Laser unit and more.
  Laboratory
We have our own on-site laboratory which is run by an experienced lab technician.
This means most of the time results are back the same day, dependent on the test requested. Extra services such as urine and faecal testing, and cytology are also performed in-house.
  Hospitalisation for Higher Levels of Care
Day time hospitalisation facilities are available at all of our branches, providing safe and comfortable accommodation for your pet whatever the size or species!
Comfy beds for dogs are provided and hiding boxes for cats, along with a range of appropriate diets and lots of care and attention from our staff. We hope your pet doesn't ever need to stay with us overnight, but if they do Priory Vets have well equipped facilities at our Reigate branch for round the clock nursing and treatment when it is needed. It is staffed by our regular staff on a rota basis for better continuity of care, which we consider to be very important.
This type of service is not provided by all vet practices but means that at Priory Vets we can concentrate on our patient's comfort and care without the need for unnecessary transfers and complications.
Our Nursing Team
Behind every good Vet is a team of great nurses! This is truly the case at Priory.
We currently have a team of 9 nurses working across our branches. They are continually developing their skills and knowledge in the latest treatments alongside our vets. Our nursing is very 'patient welfare' focused so you can be sure your pet is being well looked after.
Registered Veterinary Nurse (RVNs) work alongside veterinary surgeons in order to provide a high standard of care for animals. Our veterinary nurses are involved in a wide range of care plans and treatment. RVNs provide skilled supportive care for sick animals as well as undertaking minor surgery, monitoring during anesthesia, medical treatments and diagnostic tests under veterinary supervision. RVNs also play an important role in the education of owners on good standards of animal care. Priory Vets is a Nurse training practice, meaning we work to high standards and support nurses through their training under the Royal College of Veterinary Surgeons. Click HERE for more information on Registered Veterinary Nurses and what they do.
Our Veterinary nurses run clinics during the week to carry out procedures such as 2nd vaccinations, microchipping, Post-operative checks, suture removal, emptying anal glands, laser therapy and more. They also run support and monitoring clinics for weight loss, dental care, diabetes and mobility. These clinics are often FREE or at a reduced rate.
Our Reception Team
Our reception team makes up the biggest of all the teams in the practices, acting as the faces of our three practices and often familiar faces to all our clients.
To endeavour to provide you with the best customer service and experience they are all members of the BVRA (British Veterinary Receptionist Association) who provide additional training and qualifications. Currently we are very proud that members of our team currently hold AVR certificates (Accredited Veterinary Receptionist). Jennie Morrison our deputy head receptionist has achieved her gold award, Ann Stevens has her silver award and Jo Wright has her bronze award; demonstrating their continuous efforts to provide the best service they can.
Another aspect of customer care that we always aspire to enhance is our bereavement support services. Rachel Rowe and Joanna Kingman are our pet bereavement and support adviser, they are available to provide aid and assistance to all of those that are either struggling with the loss of a pet or with coming to terms with end of life. Losing a loved one is always difficult but we are aiming to ease this transition as best as we can. Please don't hesitate to ask if any support is required.